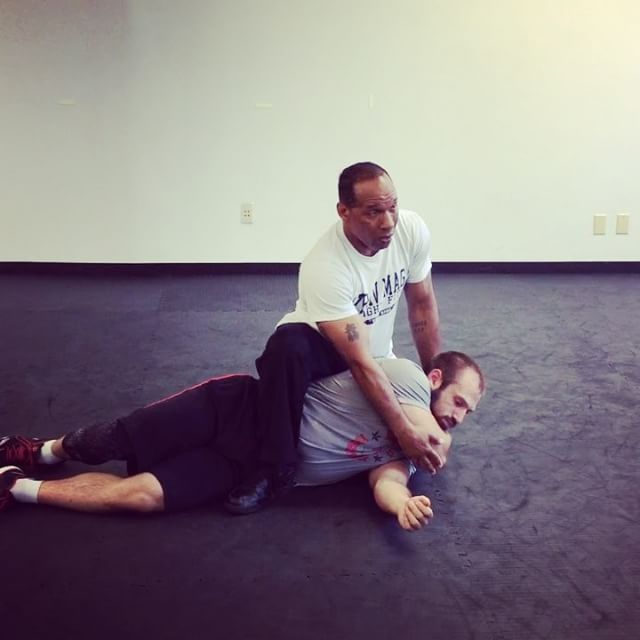 Jerry Cooper
Instructor
Over 30 years of training in both unarmed and armed combat, competition and application in the field through his service in the US Army Ranger & Scout Units, have given our lead instructor a hugely diverse resume. His emphasis on simplicity and efficiency in self-defense always offers students the opportunity to learn, apply skills and grow. Always eager and willing to teach, Jerry continues to train, add and refine skills, evolve and transfer his knowledge. A few of his credentials include:
Expert Level Instructor in Krav Maga from Fit to Fight

Fit to Fight – From the Ground Up & Sparology Instructor

Black belt rankings in Judo, Shorin Ryu, Kenpo among others

American Council on Exercise (ACE) certified Personal Status

U.S Department of Justice International Instructor – Baghdad

International Police & Corrections Instructor – Baghdad

NRA Pistol & Personal Protection Inside the Home Instructor
Brian French
Instructor
Brian is high energy and positivity.  His kickboxing classes incorporate elements from the Krav Maga curriculum in a way that is smart and exciting.
Amit Maranganti
Owner, Instructor
Initially looking for a way to change up his workouts, Amit took a introductory Krav Maga class in 2010, and immediately appreciated the no nonsense approach to self defense, continued to train and attained instructor status in 2013. The opportunity to start his own Self Defense center earlier this year led to a major career switch from healthcare, one which he jumped into with both feet. A huge proponent of "principles over techniques", his classes manage to be both intense and relaxed. Amit continues to train, teach, and plans to take his black belt test with Fit to Fight in 2018.
Heinz Yee
Instructor
Heinz will disarm any apprehension you bring to the mat or a new technique with his smile and humor.  Despite his good nature, he's no slouch when it comes to his commitment to his own training or yours.  He is adept at knowing when to pull you through gently, work side-by-side, or give you a shove to conquer your own objectives.  Getting stronger is hard, there's no reason it cannot also be hilarious.
He has over 15 years of martial arts experience in various styles: various Kung fu styles, Indonesian and Filipino martial arts and, of course, Krav Maga. Heinz has previously taught martial arts for the University of Cincinnati and for the Mayfield Heights and SELREC community education programs.
Outside of martial arts, Heinz focuses on being the best father and husband he can be.